MY FIRST LIVE SINGING THE SONGS I WROTE.
Bonds Rosary is a great place to play music. Happy to play with one of the best bands since coming to Japan.
THE CT CONNECTION BAND
Curtis Traylor……….Vocals
Takashi Lowdown Matsumura…Gt.
Emi Hanada 花田えみ….P.
Chin Arifuku……B.
Otsuji Aya………..Dr.
On October 15, 2022
Please come to see the band, and hear my Original Music.
Thank you,
CT
・・・・・和訳・・・・・
2022年10月15日(土)
今回は私のオリジナル曲、初ライブとなります!
ボンズローザリーという素晴らしい場所で私が日本に来て以来の最高メンバー達と音楽を一緒に楽しみましょう。
カーティス・トレイラー •••••ヴォーカル
ローダウン松村 ••••• Gt.
花田えみ •••••• Key.
有福珍 ••••• B.
大辻彩 ••••• Dr.
オリジナル曲と私のバンドを是非観に来てください。お待ちしております。
何卒宜しくお願いいたします。
CT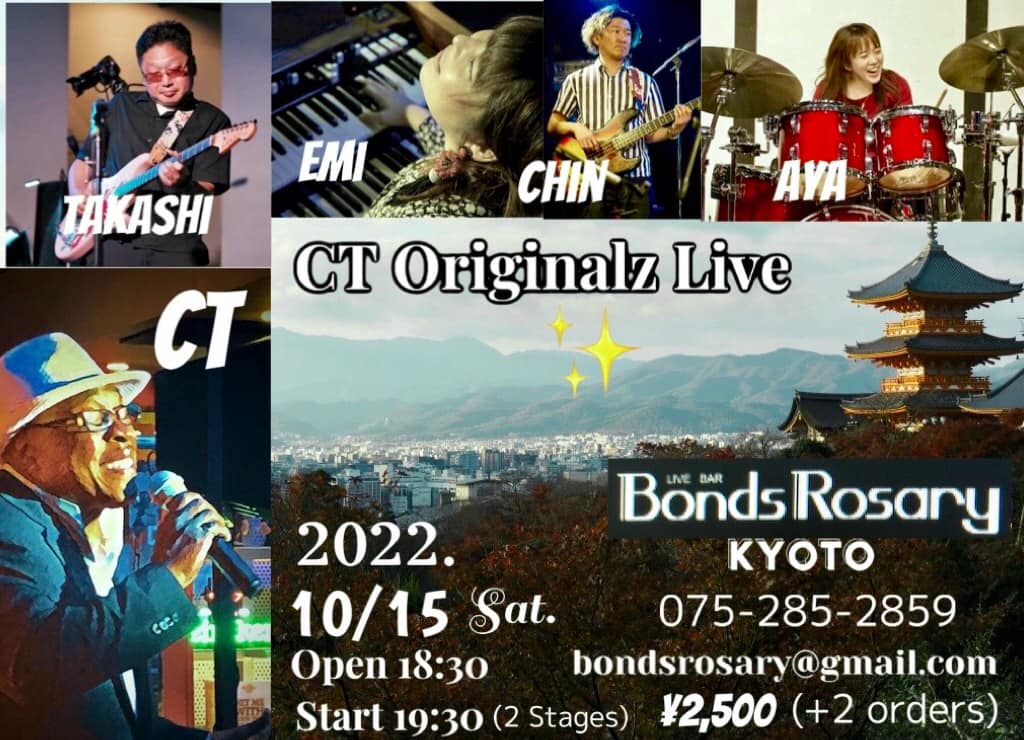 あなたが私と一緒
HELLO EVERYONE
WELCOME TO JP VIBES TALKSHOW
Watch Live on FB & YouTube at www.blackan.tv

Tonight starting from 19:00 on 5/26/2020 I will be Live on Blackan TVstream with Founder and CEO Louis JaJa Boston. We will be talking about my upcoming Online Live on Saturday 6/20/2020 at Umeda Always, Reservations, and the limited audiences due to COVID-19. My goal is to help get our music scene in the Kansai Region back on track. If you're home and interested, please tune in to our program.
Thank you,
CT
BLACKAN TV JAPAN ブラッカンTVジャパン。インターネットTV & ラジオ局。
An International Internet broadcasting station in Japan!
An international internet broadcasting station.